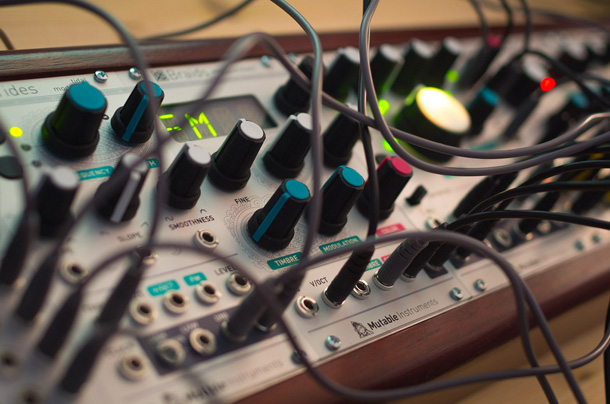 Francuskie Mutable instruments, znane do tej pory z małych desktopowych synthów jak Shrutibox, zapowiada od pewnego czasu dość szeroką paletę, bardzo ciekawych modułów eurorack. O ile się nie mylę zapowiedziane zostało już około 10 konstrukcji. Pierwszy w kolejności jest Grids – trój kanałowy skewencer perkusyjny bazujący na zaprogramowanych algorytmach. Dalej Braids – bardzo zaawansowany cyfrowy oscylator, dający dostęp do takich typów syntezy jak emulacja analogowych oscylatorów,  direct digital synthesis, synteza głosu, FM (2 operatory), synteza fizyczna, wavetable, synteza oparta o szum i synteza granularna. Ripples to całkiem zgrabny VCF. Edges to poczwórny generator brzmień zapożyczonych z 8-bitowych komputerów, Links to moduł narzędziowy, multiopla i sumator zamknięte za jednym panelem. Kolejne mniej typowe moduły to Tides – tidal modulator – na pierwszy rzut oka moduł zbliżony nieco do PEG od 4ms łączący funkcje obwiedni i LFO. Yarns to interfejs MIDI/CV. Dalej Peaks – kolejny tajemniczy moduł, który może wygenerować sygnały sterujące typu LFO i obwiednia, ale może też działać jako generator dźwięków perkusyjnych. Ostatni (chyba?!) moduł to Edges – znów zupełnie niespotykana w euro konstrukcja, pozwalająca na morfowanie pomiędzy 4 sygnałami! Więcej dowiecie się z poniższych filmików.
Mutable fun from Equinoxoz music solutions on Vimeo.
Grids overview with TTA Drums from Equinoxoz music solutions on Vimeo.
First patch with the Mutable Instruments Braids and Grids Modules (Plucked Synthesis) from Richard Devine on Vimeo.
Ripples overview from Equinoxoz music solutions on Vimeo.
BRAIDS manual overview. from Equinoxoz music solutions on Vimeo.
Mutable Instruments Skiff demo from mutable instruments on Vimeo.