Firma Jomox, znana z analogowych maszyn perkusyjnych i syntezatorów (np. XBase, Sunsyna czy chociażby obscenicznie drogiego Neuronium), zapowiedziała właśnie modularne wcielenia swoich konstrukcji desktopowych. Mod.Base 09 to modularna wersja popularnego urządzenia do tworzenia wszelkich możliwych brzmień analogowej stopy, natomiast Mod.Brane 11 ? werbla, tomów i perkusjonaliów.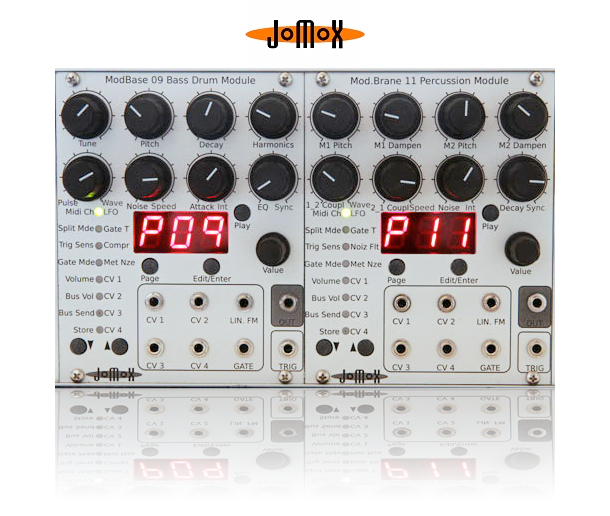 Podobnie jak w wersjach desktopowych, zaprojektowane brzmienia mogą zostać zapisane w pamięci (128 komórek), udostępnieno także wejście analogowego sygnału trigger (może działać w różnych standardach) oraz wejścia napięć sterujących (cztery konfigurowalne parametry oraz linearne FM). Co więcej, Jomox zaimplementował w swoich modułach własną szynę komunikacyjną (mix, wysyłka efektowa i komunikacja cyfrowa), dzięki której można połączyć kilka urządzeń w większy, kompletny subsystem perkusyjny z przywoływalnym ustawieniem presetów! Jeśli wierzyć niemeckiej firmie, trwają prace na modułami sterującymi globalnie takim zestawem. Kolejnym dodanym elementem, względem desktopowych pierwowzorów, jest 8 gałek umożliwiających natychmiastowy dostęp do kluczowych parametrów.
W mojej opini będą to zdecydowanie najbardziej zaawansowane i najciekawsze moduły perkusyjne, nie tylko względem produktów MFB czy Analogue Solutions, ale też serii XOX  TipTop Audio. Oba moduły dostępne będą latem, cena nie jest jeszcze znana. Więcej informacji: jomox.de.