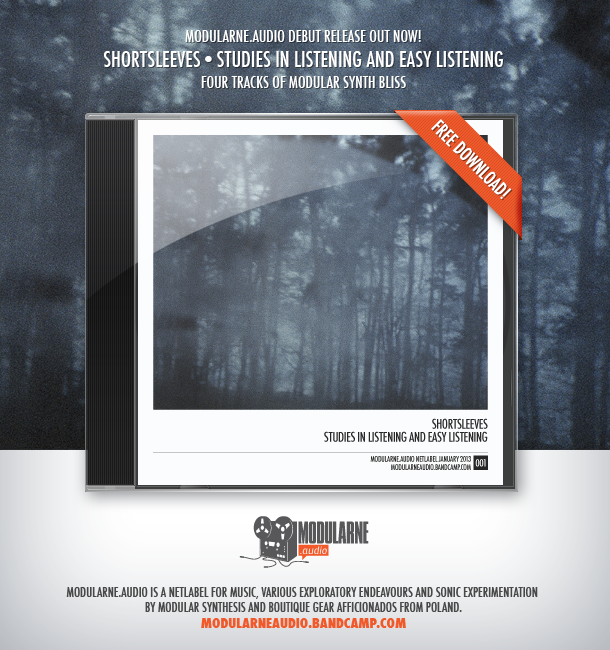 Modularne.audio 001
Pierwsza odsłona spod znaku modularne.audio to zawierająca cztery utwory EP-ka przygotowana przez ShortSleeves, czyli Łukasza Kacperczyka. ?Studies in Listening and Easy Listening? to krótkie studium potencjału syntezatora modularnego. Łączy fragmenty generatywne, samogrające, z improwizowanymi partiami nagranymi przy użyciu kontrolera wstęgowego. Sto procent syntezy, zero akustyki. Wieloplanowość rezonującej przestrzeni (Studies ? 01) miesza się ze wstrzemięźliwością duetu potykającego się o własne nogi (Studies ? 02), a gęsta narracja przywodząca na myśl muzykę popularną głównego nurtu (Easy Listening ? 01) kontrastuje z czystością pojedynczych głosów ostatniego utworu (Easy Listening ? 02). A wszystkie te dźwięki pochodzą ze skrzynki o wymiarach 46 x 34 x 22 cm.
Program
Side A: Studies
1 ? Unitled 1
2 ? Unitled 2
Side B: Easy Listening
3 ? Unitled 1
4 ? Unitled 2
Technikalia
Generatywne patche połączone z partiami imrpowizowanymi na kontrolerze wstęgowym ? wyłacznie syntezator modularny. Użyte moduły: Bubblesound uLFO; Doepfer A-105, A-112, A-118, A-131, A-138B, A-140, A-147, A-149-1, A-156, A-160, A-180, A-183-1, A-196; Livewire Dalek; Malekko-Wiard Borg 2; MFB Dual LFO; Turing Machine Random Looping Sequencer; XAOC Moskwa, Warna.
Netlabel
Z dumą przezentujemy pierwsze wydawnictwo pod egidą Modularne.audio! Pomysł na netlabel pojawił się niedawno na naszym forum ? niniejszym wprowadzamy go w czyn. Zadaniem Modularne.audio jest prezentacja muzyki, eksperymentów nagraniowych oraz wszelkiego rodzaju poszukiwań dźwiękowych prowadzonych przez polskich zwolenników syntezy modularnej, pedalboardów i butikowego instrumentarium.
Albumy mają formę wirtualną (skompresowane pliki audio), ale każdy z nich zawiera również gotową do wydruku wersję kompletnej okładki do CD ? z ukłonem w stronę zwolenników namacalnych form. Prezentowane będą tutaj (kategoria "Netlabel"), natomiast archiwizowane pod adresem modularneaudio.bandcamp.com.
Mamy nadzieję, że kolejne wydawnictwa ukazywać się będą mniej lub więcej regularnie, co zależy wyłącznie od płodności uczestników przesympatycznej społeczności skupionej na forum Modularne.info.