Ten news powinien tu wisieć od dawna, ale byliśmy zajęci… Moskwą, Warną i Bytomiem ? czyli pierwszymi modułami naszej własnej manufaktury, XAOC Devices. Możemy się więc pochwalić pierwszymi seryjnie produkowanymi polskimi modułami!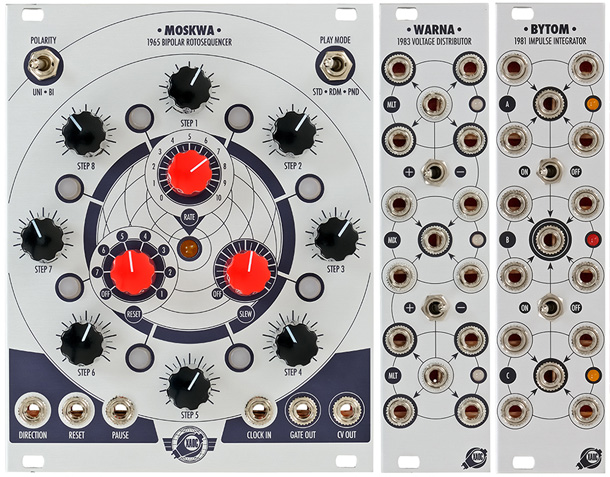 Moskwa
to ośmiokrokowy sekwencer gate i CV, nadający się zarówno do sterowania wysokością dźwięku jak i modulacji innych parametrów. W tym drugim przypadku wyjątkowo pomocny jest tryb bipolarny (-5v ? +5v). Sekwencje mogą być odgrywane od początku do końca, chaotycznie lub wahadłowo. Daleko idącą komplikację generowanych przebiegów zapewni sekcja sterowania zewnętrznymi sygnałami trigger (pauza, reset, zmiana kierunku). Z wbudowanym źródłem zegara i slew limiterem, Moskwa jest niemalże samowystarczalna i doskonale sprawdzi się w niewielkich, kompaktowych systemach. Jeśli to za mało, zawsze można ją wykorzystać jako graficzny oscylator lub poczekać na ekspander ? Ostankino, który pozwoli połączyć dwa sekwencery w jeden szesnastokrokowy. Sekwencer generuje napięcie CV oraz sygnały trigger/gate o 8 różnych długościach.
Warna
to nasz szwajcarski scyzoryk. Moduł wyposażony jest w prosty mikser "unity gain" i dwie buforowane multiple z wbudowanym inwerterem. Pozwala to na zaawansowaną dystrybucję napięć sterujących, ale odpowiednie połączenia pozwalają wykorzystać Warnę do feedbacku czy nawet przesterowania sygnału audio.
Bytom
ułatwi natomiast miksowanie sygnałów trigger i gate. Jego trzy sekcje mogą być użyte niezależnie lub dowolnie łączone za pomocą przełączników, to pozwala z przygotowanych submiksów tworzyć bardziej skomplikowane struktury. Moduł wybitnie nadający się do tworzenia rytmicznych sekwencji na żywo.
Wszystkie nasze moduły znajdziecie w SchneidersLaden, Analogue Haven, Control, Escape From Noise, Post Modular i EquinoxOZ.