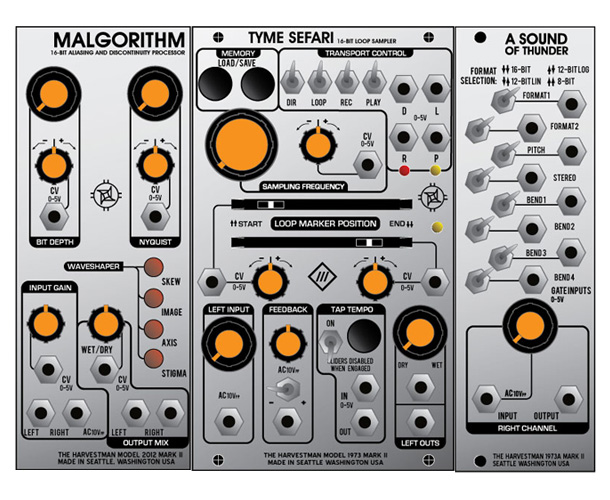 Wielkie zmiany w obozie jednego z najbardziej kultowych producentów w świecie euroracka. Harvestman jak już pewnie zauważyliście zmienia layout swoich modułów, ale na powierzchownych zmianach się nie kończy. Przede wszystkim nowe rewizje starych modułów zyskują nowy 16 lub nawet 24bitowy silnik. Patrząc na nowe Tyme Sefari czy Herz Donut trudno nie zauważyć różnic. Tyme Safari poza doskonałym rozwiązaniem ustawiania początku i końca loopu za pomocą suwaków (zapożyczonym z resztą od pierwszego samplera Akai) zyskuje też nowy ekspander, nie tak enigmatyczny jak Sound of Thunder rev1 ale i o wyraźnie poszerzonej funkcjonalności.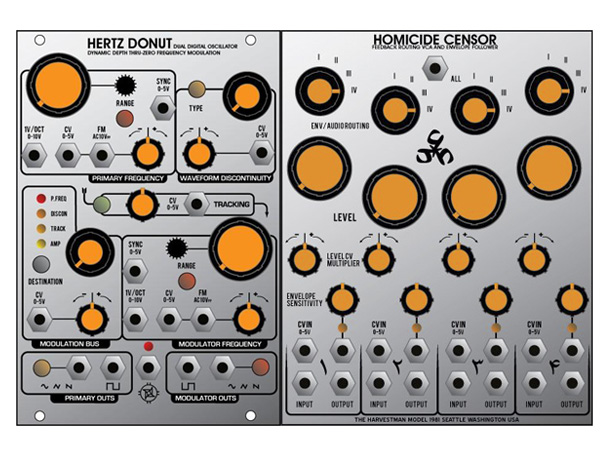 Nie inaczej jest z nowym Herz Donutem, koniec z ukrytymi funkcjami, poszerzona sekcja cyfrowego waveshapera – Waveform Discontinuity, rozbudowana sekcja trackingu no i oczywiście 24bity/96khz.
Ostatni z upgrade'owanych modułów to bitcrusher Malgorithm, który obecnie zyskał 16bitówą platformę i zmieniła się w znacznym stopniu jego architektura.
Miłośników lo-fi powinno uspokoić to że wszystkie nowe moduły, nadal będą w stanie wypluć z siebie brzmienia znane ze swych pierwszych wersji – przynajmniej teoretycznie.
Na koniec wspomnę też o nowym module – Homicide Censor – to rozbudowany czterokanałowy feedback maschine/mikser z wbudowanymi envelope folowerami – coś absolutnie w starym stylu Harvestmana.