NWS zasłynął błyskotliwymi konstrukcjami sDIY, a w szczególności Springotronem 3000. Od czasu do czasu Nick oferował budowane na zamówienie maszynki, takie jak Chaos Engine. Najwyraźniej zainteresowanie jest duże, skoro Chaos Egine otrzymał bardziej stylową obudowę w stylu retro, i jest dystrybowany przez Schneiders Laden (jedynie 129 EUR).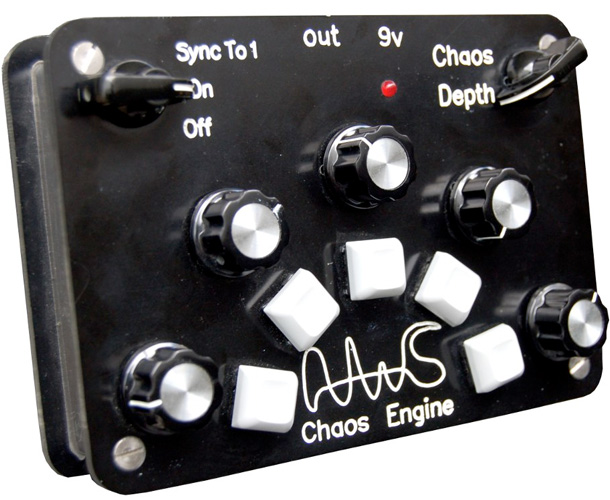 Jest to raczej typowy drone synth, ale wyróżnia go charakterystyczny zestaw 5 przycisków uruchamiających odpowiednio każdy z 5 strojonych oscylatorów. W zależności od ustawień ich synchronizacji, Chaos Engine udostępnia 3 podstawowe tryby zabawy. Przy rozpiętej synchronizacji, każdy z oscylatorów pracuje niezależnie, a przyciski stają się namiastką klawiatury. W kolejnym trybie do pierwszego oscylatora synchronizowane są pozostałe ? zmiana stroju nei odbywa się więc liniwo, lecz generuje serię nieprzewidywalnych składowych harmonicznych i niespotykane skale. Ostatnia metoda to wymuszone strojenie każdego z oscylatorów do pozostałych, co owocuje już zupełnym, fraktalnym chaosem.
Więcej informacji oraz próbki brzmienia na stroni producenta: nicksworldofsynthesizers.com.