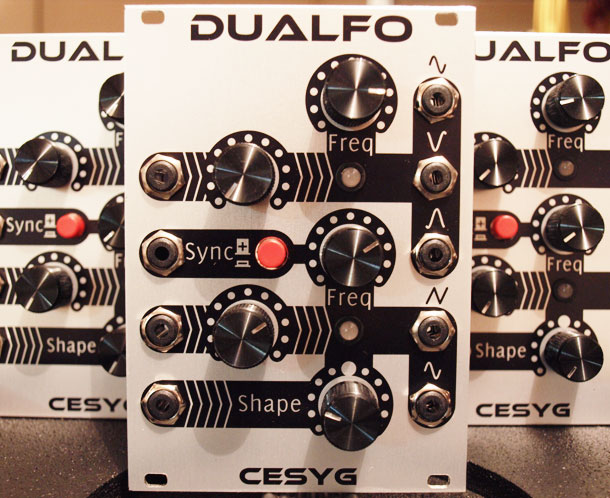 Cesyg to kojejny nowy producent na scenie euro, debiutujący interesującym, podwójnym oscylatorem wolnych przebiegów. Czytelna, choć dość ostentacyjna grafika odwraca uwagę od bardzo interesujących właściwości modułu. Przede wszystkim zakres generowanych częstotliwości ? górna granica cyklu pracy sekcji Main LFO to 45 Hz, zaś dolna to aż 196 uH (mikro Hz) ? czykli 1 godzinę i 25 minut! Sekcja Auxilliary LFO zwalnia aż do 1 godziny i 35 minut! uLFO i Vulcan zostają w tyle.
Sekcja Main LFO udostępnia 3 wyjścia fali sinusoidalnej: właściwej (0°), następnie odwróconej o 120° oraz 240°. Natomiast Auxilliary LFO  to oscylator o trójkątnym rdzeniu, ale oprócz fali trójkątnej (o sterowanym napięciowo nachyleniu) generuje także diodowo kształtowaną sinusoidę. Obie sekcje mogą być synchronizowane ze sobą (również za pomocą napięcia), lub być sterowane niezależnie.  Bardzo przydatna jest opcja resetu sinusoidy do punktu startowego (0°) za pomocą podanego z zewnątrz pulsu, przy czym odpowiednim przyciskiem można wybrać reset stanem wysokim lub niskim.
Panel ma szerokość 18 hp, nie ma zatem problemu z ergonomią. Niestety, można zapomnieć u montażu w skiffie ? DuaLFO to jeden z nagłębszych modułów w euro, głębszy nawet niż A-112, choć na szczęście daleko mu do PlanB/Blacet Miniwave, uff.
Szczegóły i zamównienia ? na stronie producenta: cesyg.dyndns.org. Fotka dzięki uprzejmości Equinoxoz (thanks Cody!).