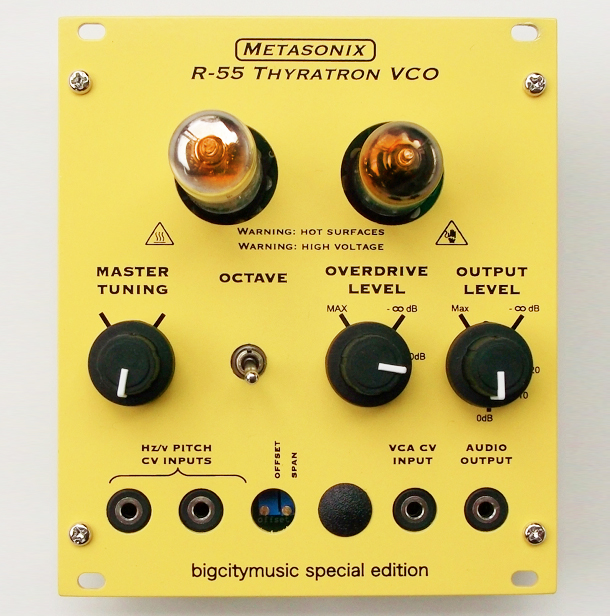 Metasonix po raz kolejny przeszedł samego siebie. Jedna z (wielu) sensacji zimowego NAMM od początku maja dostępna jest wreszcie w Big City Music (i tylko tam!). Obwód przeniesiono z S-1000, nieco poszerzając zakres generowanych częstotliwości: 60 Hz?3 kHz. A więc R-55 to oscylator oparty o lampę tyratronową, czyli odmianę lampy gazotronowej o charakterystyce ułatwiającej generowanie przebiegów piłokształtnej. Natomiast pentoda pozwala na kształtowanie tejże fali w kwadrat, poprzez przesterowanie. Ta sama pentoda odpowiada za sekcję VCA. Dobrym pomysłem jest przełącznik oktaw ? który nawiasem mówiąc przydałby się także w moim R-54, bo strojenie lampowych oscylatorów jest skrajnie upierdliwe.
Dodatkową pornografią jest kwestia zasilania tego modułu. Z dostarczeniem prawie 2 amperów na szynę +5V nie poradzi sobie niemal żadna z dostępnych na rynku obudów. Jedynie Monorocket dysponuje odpowiednim adapterem +5V i zasilaczem, który jest w stanie udźwignąć 3 takie moduły.
Jak można było przypuszczać, brzmienie takiego oscylatora jest unikalne, ze względu na oczywistą niestabilność i "zakłocenia". Lampy 2D21 są rzadkością, więc dostępnych jest jedynie 100 sztuk tego modułu. Niestety, w sieci nie pojawiły się jeszcze żadne sensowne demka tego modułu, a tak bezkompromisowa konstrukcja aż się o to prosi. Autor poniższego filmu spatchował 3 egzemplarze R-55, podpinając zasilanie prosto ze słupa, jak sądzę 🙂 Więcej informacji na stronie producenta.