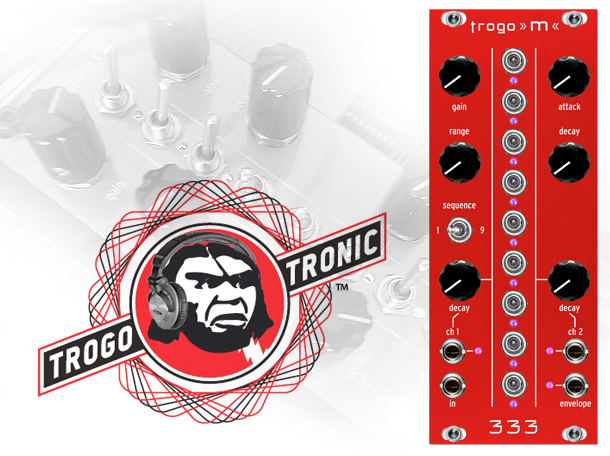 333 to trzeci już moduł w modularnej serii Trogo. Jak można było się spodziewać ? jest bardzo oryginalne urządzenie, i mam nadzieję, że zabija faszystów równie skutecznie jak poprzednie. Jego głównym zadaniem jest integracja zewnętrznych źródeł audio z modularem poprzez generowanie obwiedni i komparację. Ale oprócz banalnego generatora obwiedni, 333 to również specyficzny, 9-krokowy sekwencer opierający się na wygenerowanych z sygnału audio zdarzeniach CV, oraz kontrolę ataku i opadania obwiedni, siły przedwzmacniacza dla sygnału na wejściu, zakresu sekwencera. WT Nelson zpowiada także breakout/ekspander sekcji sekwencera, prawdopodobnie z indywidualnymi wyjściami triggerów. Wszystko to brzmi bardzo ciekawie ? szczególne na tle A-119, którego nieopatrznie zakupiłem niemal tuż przed premierą M333.
Więcej informacji: www.trogotronic.com.
Zdjęcie i jedno z demek dzięki uprzejmości: etherra.blogspot.com.