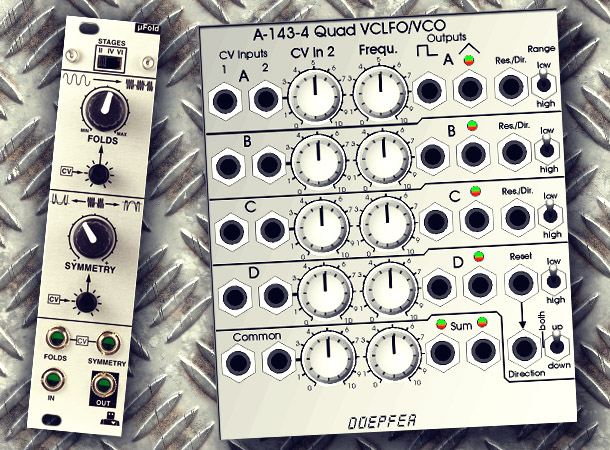 Intellijel najwyraźniej chce dorównać Doepferowi. Seria mikromodułów robi się imponująca. Najnowszy to uFold – wavefolder opracowany ,jak wiele ostatnich produkcji manufaktury przez Davida G. Dixona. Zamknięty w 6hp moduł daje kontrolę nad ilością zniekształceń i ich symetrią, działa za równo z sygnałem audio jak i napięciem cv. uFold ma kosztować 160$. Jedynym minusem, który widzę, jest zastosowanie małych trymerów w roli tłumików cv. Niestety to rozwiązanie jest już ogólną modą na froncie miniaturyzacji euroracka.
uFold demo from Danjel van Tijn on Vimeo.
Nowy moduł pojawił się również w stajni Doepfera. A143-4 ucieszy wszystkich, którym mało generatorów. W obudowie 22hp Dieter Doepfer zmieścił cztery proste sterowane napięciem LFO. Mogą one działać jako VCO, choć ich tracking nie jest idealny w tym trybie. Na uwagę zasługuje rozbudowana sekcja resetu, pozwalająca na wybranie kierunku fali po jej restarcie. 220 euro za cztery generatory to niewiele, choć zawieść może skromny zestaw fal – tylko prostokąt i trójkąt. Szkoda że nie ma przynajmniej fali sinusoidalnej. Więcej o module na jego stronie.
Swoją drogą A143-4 i uFold mogą stanowić ciekawy, dość dobrze dopełniający się zestaw. A143-4 dostarczy wystarczającą ilość sygnałów i źródeł modulacji a uFold rozszerzy skromny zestaw fal kolegi.