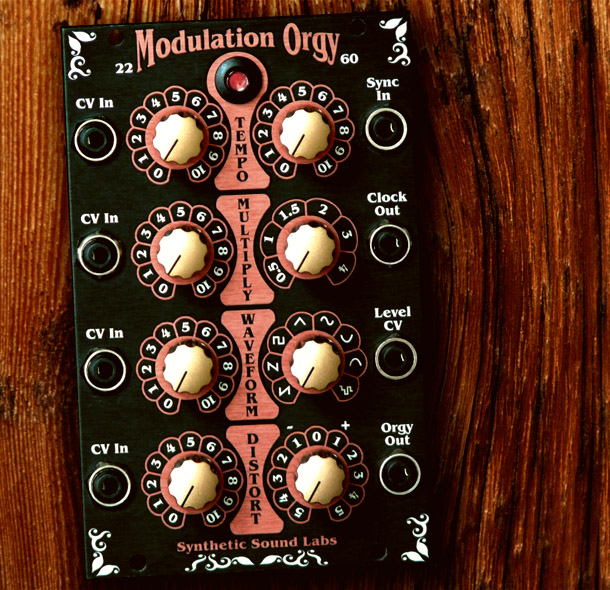 Prowadzona przez Douga Slocuma manufaktura Synthetic Sound Labs działa od początku lat 70. kiedy to zajmowała się głównie modyfikacją Moogów. Doug może pochwalić się współpracą z Manfredem Mannem czy Chickiem Corea'ą, ale to nic ciekawego, w porównaniu do stempunkowego modulara, który udało mu się złożyć.
SSL tą estetykę przenosi w świat euroracka, za sprawą swojego pierwszego modułu w tym formacie – Modulation Orgy. Nazwa bynajmniej nie jest na wyrost. W postaci modułu szerokości 16hp dostajemy bogato wyposażone LFO. Główną atrakcją zapewne będzie możliwość nabicia tempa za pomocą triggera lub ręcznie, przyciskiem, ale orgia tu się nie kończy, do dyspozycji mamy szeroką paletę fal (w tym randome), którą możemy poszerzyć dzięki układowi "przesterowania" – wszystko sterowane poprzez CV! Zakres generatora mieści się między 0.025hz a 50hz.
Całość dostępna na razie tylko w Analogue Haven za 250$. Na stronie znajdziecie więcej szczegółów w tym całkiem ciekawe wykresy zniekształcenia fal.